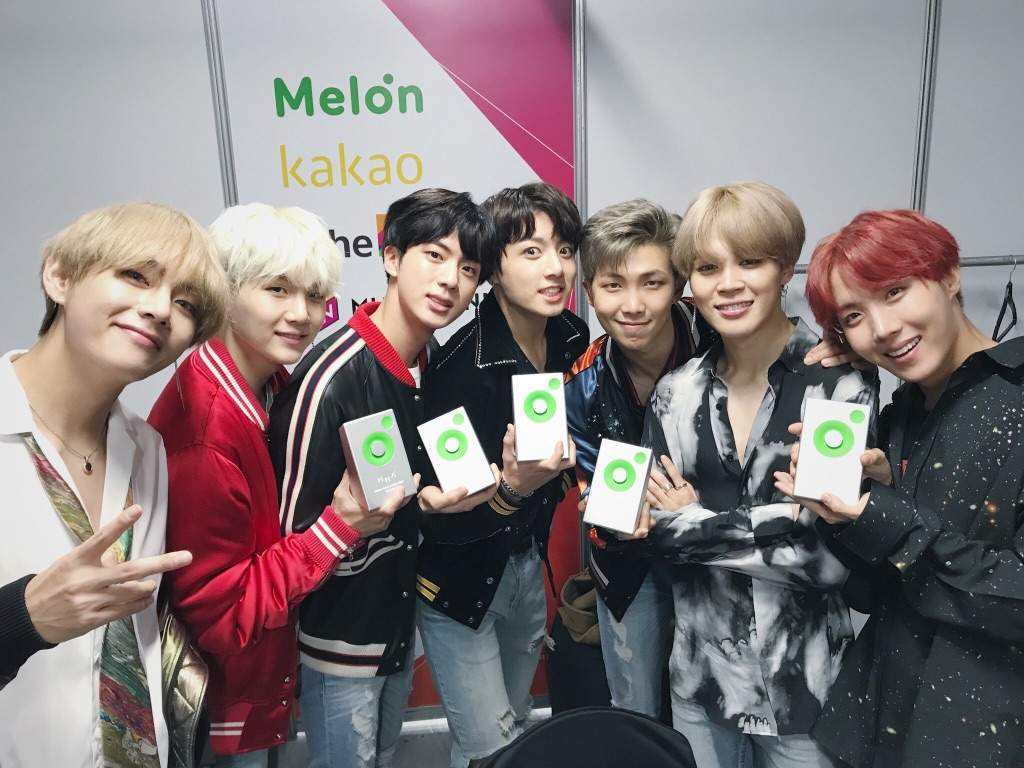 Bts swept the Daesang categories for that second year in a row at the Melon Music Awards 2020!
The 2020 Melon Music Awards took place from December 2nd to 5th. The main ceremony took place on December 5th.
Before the main ceremony, BTS had been announced as one of Melons Top 10 artists from 2020. IU's "Eight", produced by and with BTS 'Suga, also won in the Best rock Category.
At the main ceremony, it was announced that BTS had won all three Daesangs (grand prizes) presented at the Melon Music Awards this year: Artist of the Year, Album of the Year ("Map of the Soul: 7") and Song of the Year ("Dynamite"). In addition to the above awards, BTS was awarded the Best Dance (Male) Prize for Dynamite and the Netizen's Choice Prize. With that, the MMA group has received a total of six awards in 2020 (seven of them, including IU and Suga's Best Rock collaboration).
In her Artist of the Year speech, RM said: "To be honest, it is not pleasant to receive such an important award in these difficult times. This year we couldn't meet fans in person. It's been almost a year since we were able to perform in person with fans. I think a lot of artists feel just like us.
Everyone, it's been a tough year hasn't it? At the beginning of all of this we felt so much anger and resentment and despair and displeasure, displeasure over so many things. We tried to make the music we could and made music videos and worked hard. At some point we could accept reality. As humans, we have been able to adapt and get used to the circumstances.
But that was scary because we shouldn't get used to it. We're supposed to share contact with other people, and getting used to not doing that was a frightening reality. Ironically, this year we found that the righteous feelings we spread around the world have not been in vain.
Although we cannot see each other or hold each other's hands or hug each other, we are connected and our spirits seek each other. We recognized this anew through 'BE' and 'Dynamite'. We felt your love through your letters and your words. Although we can no longer perform in front of an audience, so many artists sat in their room or studio this year doing their best to make great music.
From artists to fans to listeners, we've all started and ended our days with the same music and done our best to connect with each other. I don't know what will happen in the future, but let's use music to reach out to each other and hold the long winter together until spring comes again. The seasons will return and life will go on and I believe spring will come again. "
V added: "I want to mention that we are not six people, we are a group of seven. Our last member, Suga, is watching this right now. I want to tell him something now. We have received many awards today, so I hope you are happy and have good memories with us soon. "J-Hope mentioned that" eight "had also been selected as a candidate for multiple categories.
Jimin concluded, "How [RM] said it was a difficult year for everyone due to COVID-19. We got up again through the strength of the members and the ARMY, and I hope that our music has brought strength to other people as well. "J-Hope also thanked Bang Si Hyuk and her staff at Big Hit Entertainment, the members' families and ARMY.
For the album of the year, Jimin said in his speech: "Thank you very much. The first Daesang we won was album of the year at the Melon Music Awards. Receiving this award again is so meaningful to us and it seems like we are repaying ARMY's efforts. Receiving this award again is a testament to our worth. Many people have helped us to bring us to a place where we could receive such an award. Thanks to ARMY for always cheering us on and to PD Bang Si Hyuk the Big Hit staff and all of the producers for helping us make a great album. "
In her song of the year speech, Jungkook said, "Even when you're not here, I want to shout, 'ARMY, let me hear you! 'Even though they are far away, I feel like I can hear their voices reaching us. Our proudest times as singers are when we can give other people strength and comfort through our music.
Under these particularly difficult circumstances, we released an album and a song that we hadn't planned beforehand and got surprisingly good results. We were happy to see that so many people have gained strength from our song. We also took a lot of strength from this song and I hope that we can keep working to bring comfort and happiness through our music. Thank you to all the producers, songwriters, and staff who helped us create this song. "
On Twitter, Jimin wrote: "Did ARMY enjoy our performance? Thanks to you, we have received many awards. Many thanks. This is only the beginning of the awards ceremony at the end of the year. So look forward to the rest of our services! "
아미 여러분 준비한 무대 는 잘 보셨나요?
여러분들 덕분 에 정말 많은 상 을 받을 수 있었습니다 정말 정말 감사
연말 축제 는 이제 시작 시작
남은 무대 들 도 기대 많이 해주세요 !!#JIMIM# 우리아 미상 받았네 # MMA2020 pic.twitter.com/0LKfYZGFpa

– 방탄 소년단 (@BTS_twt) 5th December 2020
[#오늘의방탄] 방탄 소년단 을 꽃 으로 만들어 만들어 아미? MMA 6 관왕 감사 합니다! ??????# 상탄 소년단 # 트랜스퍼 팝 케이 센세이션 썬 샤인 레인보우 트레디셔널 트랜스퍼 USB 허브 쉬림프 ite 피자 ite Dynamit 핫백 1 위 3 번 GG 팝 듀오 그룹 노미 LifeGoesOn 핫백 1 위 BTS pic.twitter.com/sC6FXX0lC3

– BTS_official (@bts_bighit) 5th December 2020
Check out the red carpet Here and the full list of winners Here!