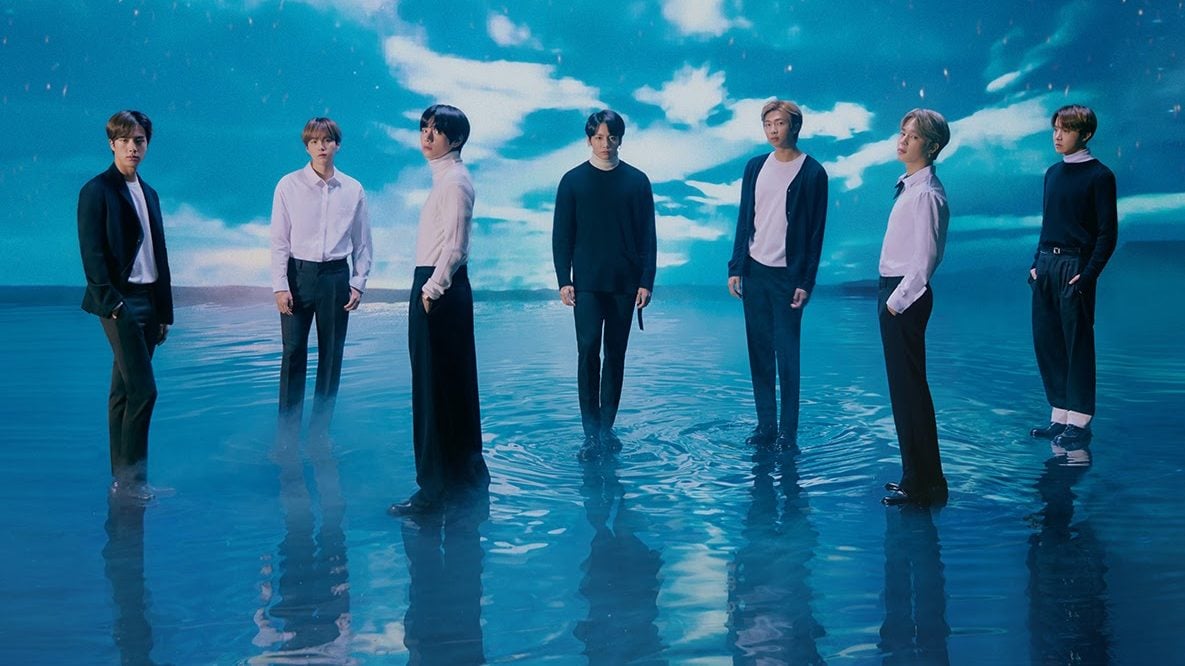 BTS wins the "Daesang Sweep" at the Mnet Asian Music Awards 2020 for second year in a row
The 2020 Mnet Asian Music Awards hosted by Song Joong Ki took place on December 6th without an audience due to COVID-19 restrictions.
BTS took home a total of eight awards, including the four Daesangs (album of the year for "Map of the Soul: 7", song of the year for "Dynamite", global icon of the year and artist of the year). and Best Male Group, Best Performance – Male Group ("Dynamite"), Best Music Video ("Dynamite"), and Top 10 Worldwide Fans' Choice won Best Collaboration.
In her album of the year speech presented by James Corden, Jimin said, "Thank you! There are people who may not know, but Suga is recover from shoulder surgery. But because we received such a big award, he performed surprisingly tonight."
Through a call on the stage, Suga said, "I'm watching the ceremony live. I would like to thank ARMY for awarding us the "Album of the Year" award. It's the second year in a row that we've received the Album of the Year award. This is for the album that got the most love this year, isn't it? We worked hard to prepare this album in the US and beyond so we are grateful that it received so much love. I am happy to know that we won the album of the year. I'm working hard on my recovery so please don't worry. A lot of people I know text me and say they enjoy seeing MOM, but it feels weird because I'm not there. It's a little embarrassing to say, but I'm with you spiritually. Thank you. ARMY, I love you. "
In her speech on the World Icon of the Year given by Park Seo Joon, RM said in English, "I'm nervous. You can see that I'm nervous while wearing a mask. ARMY do you hear me? First of all, I would like to say greetings to our worldwide handsome Jin, and I would also like to proclaim our worldwide ARMYs. All over the world, in your room, in your house. I hope my truth and my mind can be conveyed through this paper thing [his mask]. When we think of "worldwide" I wonder if the world is really wide. Of course it's a long way, but in the field of music and love the world is not that far. It's actually very small. Thanks to your love and support, this year we have made you feel like you are right next to us and right in our head. We are all connected. Our ARMYs around the world have awarded and given this award to us. I hope that you stay safe and that we can meet in person and tell each other that I love you. "
In the Song of the Year speech given by Song Joong Ki, RM said, "MAMA is the only awards show that we weren't invited to on our debut. We really wanted to come here and it was a ceremony we felt a lot of envy about, but over time we have received such great awards here one after another. It's deeply moving for us. 'Dynamite' is a godsend that came to mind when we were weighed down by these tragic times. Little did we know it would receive so much love. During these troubled times, there were times when we found it difficult to be the only ones getting such good news, and we weren't comfortable with it. Whether it's like "Dynamite" or like "Life Goes On" through dance and music, can we say we should put our feet in the ground where we stand? Because there are so many people who can no longer do the job as they used to do, we wondered if we could really say something like that. In the end, we are people who dance and sing. We are both grateful and sad that people have taken our message that we should believe in a better tomorrow into their hearts. It is sad and difficult and joyful to say, but time will go on, tomorrow will come and tomorrow will rise. Let's work hard on life and greet the new morning with a smile. Whether it's explosive like "dynamite" or calm like "life goes on", we'll put both feet in the ground and work hard as BTS. Thank you for all the love you showed us. "
In her Artist of the Year speech, given by Lee Jung Jae, J-Hope said, "I am grateful to ARMY for staying with us for so long. The weight of this award makes us realize that it really is the end of the year. It is an honor to be able to perform at the year-end ceremonies every year and receive great awards. A lot has changed in the world, but that feeling has not changed. Every year, when we take another step on our path to growth, we say the most: our great fans. To be able to receive these awards, to be able to perform here, all thanks to ARMY. It's a little awkward to say, but the heroes of this award are the members. Thanks to these members and this team, we were able to get through this year. I don't know if Suga can see that, but get well soon and be on stage with us soon. We shine more when you are with us. "
Jimin thanked the group for their personal co-workers, the Big Hit Entertainment staff, and their families and friends. Jimin said, "Somehow a whole year has passed. We worked so hard, but it felt so fast, and sometimes so slow, that everything is difficult to remember. I'm not sure how to think about this. It's complicated and sad and happy and angry and there doesn't seem to be much left, but it definitely passed. But we held on so I hope we can come back here next year and meet again. "V also particularly thanked the group's management team.
Congratulations to BTS! Check out the full list of 2020 MAMA winners Here.
---