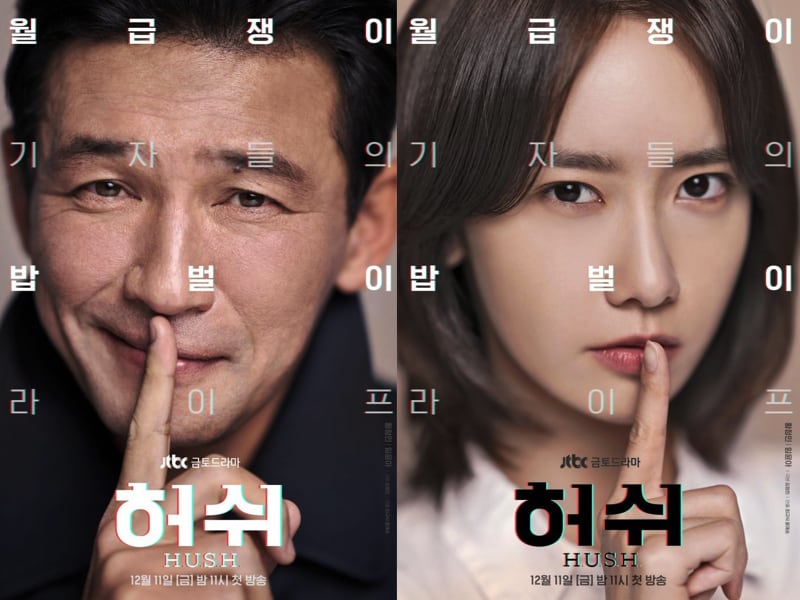 A fun series of special teasers has been unveiled for the upcoming Friday-Saturday drama "Hush"!
"Hush" is about the daily struggles and ethical dilemmas of newspaper reporters. Their problems are presented as those that all office workers deal with, not just as reporters.
Hwang young min takes on the role of Han Joon Hyuk, a seasoned reporter who has lost his passion for work due to the harsh realities of the industry. In contrast, girls' generation YoonA plays the spirited and courageous intern reporter Lee Ji Soo, and Han Joon Hyuk becomes her mentor while they work on the same team.
The first "Hush" teaser begins with a 90s-style promotional video for the Maeil Korea newspaper. Says the narrator, "In keeping with the new media era of the 21st century, digital news is beyond the newspaper! Read Maeil Korea every morning now. Han Joon Hyuk and Lee Ji Soo then appear in VHS quality and say, "Korea's morning is in Maeil Korea."
The video shows Han Joon Hyuk and Lee Ji Soo watching the commercial in a meeting room, and Han Joon Hyuk says with a skeptical face, "Is it really effective to advertise like this these days?" Lee Ji Soo sounds a bit insecure and replies, "It's a lot of the time these days."
The second teaser starts with the same retro promotional video, but this time Uhm Sung Han (Park Ho San), director of the digital news division, is also watching. He says, "You call that a promotional video? How can I post this? "Han Joon Hyuk respectfully tells him," Boss, that's what is really effective these days. "
Finally, the final teaser shows the reaction of Na Sung Won (Son Byung Ho), the editor-in-chief. With a smile, Na Sung Won says: "You did it! See you can do it! It's good! "and Uhm Sung Han laughs awkwardly as he pretends to agree.
"Hush" premieres on December 11th at 11pm KST after the conclusion of "More Than Friends".
In the meantime watch "More than friends" Below!
Source (1)